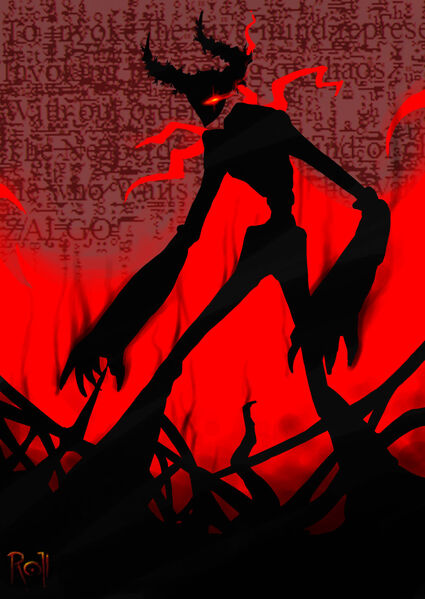 Summary
This creature that many fear, this creature that grants unimaginable power, this creature...is ZALGO. For he is the supreme destroyer. He invokes fear in all...
Powers and Stats
Tier: Zalg0
Name: Zalgo
Origin: Zalgoverse
Gender: Male (supposedly)
Age: Zalgo is endless....
Classification: Almighty Demon Ruler
Powers and Abilities: Mind Control, Instant Regeneration, Fire Manipulation, Darkness Manipulation, Memory Manipulation, Immortality, Fearmongering, Hatemongering, Zalgo Power, Reality Warping, Zalgopresence, Zalgopotence, Zalgoscience
Attack Potency: Zalgo Level
Speed: Zalgopresent
Lifting Strength: Zalgo holds all in his hands...
Striking Strength: Zalgo strikes fear into all...
Durability: Zalgo is not bound by the mere concept of durability.
Stamina: Zalgo never tires, though he does sleep when he wants to...
Range: Everywhere
Standard Equipment: His almighty will
Intelligence: Zalgo knows all...
Weaknesses: Zalgo has no weaknesses...
Others
Notable Victories:
Notable Losses:
Inconclusive Matches:
Ad blocker interference detected!
Wikia is a free-to-use site that makes money from advertising. We have a modified experience for viewers using ad blockers

Wikia is not accessible if you've made further modifications. Remove the custom ad blocker rule(s) and the page will load as expected.