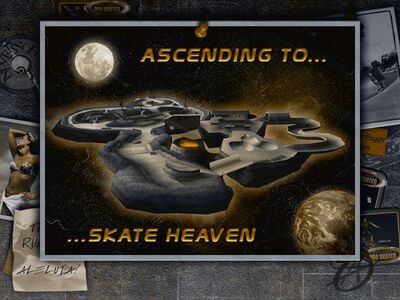 Arena Summary
Presenting the secret area of Tony Hawk's Pro Skater 2, Skate Heaven! It's a skatepark in space! (Yet somehow breathable) Lots of cool spots are located here like Tony's house, the Carlsbad gap, and a VOLCANO!
Time Of Day: Night
Weather: Fair
Location: Outer Space (the atmosphere is breathable however)
Arena Size: About maybe multi-city block to small town
This Arena May Benefit: Skateboarders, Lava Users, (due to the volcano in the skatepark) Characters with a connection to the moon, Users of space matter
This Arena May Impair: N/A
Items: None Notable (The spots are your best weapons)
Starting Theme Of The Battlefield: The entire THPS2 soundtrack played on a loop
Ad blocker interference detected!
Wikia is a free-to-use site that makes money from advertising. We have a modified experience for viewers using ad blockers

Wikia is not accessible if you've made further modifications. Remove the custom ad blocker rule(s) and the page will load as expected.