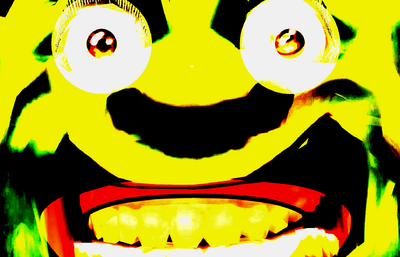 Summary
Deep inside the swamp there lived an Ogre. High up at the lookout lived a Popo. After a few bits of love and life(that reads like a bad yaoi fanfiction), the perfect fusion was formed. Shropo.
Powers and Stats
Tier: Super Memetic
Name: Shropo
Origin: Team Four Star/Dreamworks/4Chan/Dragon Ball
Gender: Male
Age: Beyond Concepts Of Age
Classification: Fusion of Shrek & TFS Popo
Powers and Abilities: The combined abilities of Shrek and Popo multiplied beyond infinity
Attack Potency: Super Memetic Level (A fusion this powerful is terrifying)
Speed: Super Memetic Speeds (Can break the memetic speed infinity loop with no effort)
Lifting Strength: Infinitely Beyond Memetic (Can lift the memetic megamultihypermetaverse with one hand)
Striking Strength: Class Pecking Ogre
Durability: Super Memetic Level (Anything not above memetic can't harm it)
Stamina: Irrelevant
Range: Super Memetic Megamultihypermetaversal
Standard Equipment: Onions, Worms
Intelligence: Super Memetiscient
Weaknesses: As if....
Others
Notable Victories:
Notable Losses:
Inconclusive Matches:
Ad blocker interference detected!
Wikia is a free-to-use site that makes money from advertising. We have a modified experience for viewers using ad blockers

Wikia is not accessible if you've made further modifications. Remove the custom ad blocker rule(s) and the page will load as expected.