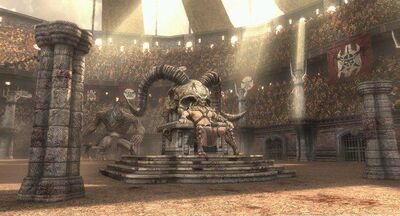 Arena Summary
This is Shao Kahn's coliseum, where copious amounts of blood have been spilled in the name of Kombat. The crowd is very loud and a bit rowdy. Shao Kahn watches from his throne. Let the Kombat Kommence!
Time Of Day: Usually daytime, but this is optional
Weather: Fair
Location: Outworld
Arena Size: About the size of your standard coliseum
This Arena May Benefit: Gladiator-ish fighters, fighters who can take advantage of multiple people (the crowds are large and loud)
This Arena May Impair: Characters who can't tolerate loud noise/heckling
Items: Shao Kahn's Throne, Spectators, Pillars, Chains
Starting Theme Of The Battlefield:
Ad blocker interference detected!
Wikia is a free-to-use site that makes money from advertising. We have a modified experience for viewers using ad blockers

Wikia is not accessible if you've made further modifications. Remove the custom ad blocker rule(s) and the page will load as expected.