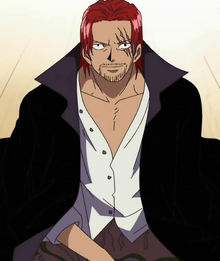 Summary
Screw summaries, I'm Shanks! And I don't play by the rules!
Powers and Stats
Tier: -1
Name: Red Haired Akagami Shanks
Origin: Wan Peesu
Gender: Mail
Age: Young Adult
Classification: DO WHAT YOU WANT BECAUSE A PIRATE IS FREE YOU ARE A PIRATE
Powers and Abilities: True Omnipotence, Omniscience, Omniprescence
Attack Potency: True Infinity+
Speed: Massively Faster than Omnipresent+
Lifting Strength: Irrelevant
Striking Strength: Irrelevant
Durability: True Infinity+
Stamina: Irrelevant
Range: True Infinity+
Standard Equipment: True Omnipotent Sword
Intelligence: True Infinity+ 
Weaknesses: Too spunky for weaknesses
Notable Attacks/Techniques:
Absolute Omnislash: Standard sword technique where Shanks slashes through the enemy with True Omnipotent power
Memetic Cutting Slash: This slash is sufficient enough to one hit memetic tiers, even though their way above Shanks' tier. Because Shanks is that awesome. He even ended a war single handedly.
Haki: Shanks can boost his power by infinity, see the opponent's moves before they do anythnig, and instantly knock them out before they can do anything at all and everyone else in a wide radius.
Others
Notable Victories:
Kami Tenchi (Was only an honorable mention)
The One Above All
The Primal Monitor
Elder God Demonbane
Azathoth
Yog-Sothoth
Featherine Augustus Aurora
Alucard
Notable Losses:
Inconclusive Matches:
Ad blocker interference detected!
Wikia is a free-to-use site that makes money from advertising. We have a modified experience for viewers using ad blockers

Wikia is not accessible if you've made further modifications. Remove the custom ad blocker rule(s) and the page will load as expected.