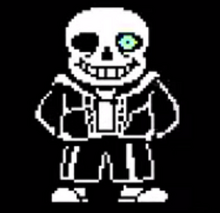 Summary
A character in "Undertale" and the weakest monster in the underground.
Powers and Stats
Tier: Around 10-C
Name: sans the skeleton
Origin: Undertale
Gender: Male
Age: Unknown
Classification: Spooky skeleton
Powers And Abilites: Bone Zone, Gaster Blaster(s), SOUL Manipulation, Karmic Retribution, Teleportation, Ignoring invinsibility frames, Attacking in the player's turn(via cheating the game)
Attack Potency: Subhuman (can only deal one damage point)
Speed: Average | Anywhere via teleportation(which he calls "shortcuts")
Lifting Strength: Unknown, possibly Subhuman
Striking Strength: Unknown
Durability: Sub-human Level(received 999999 damage after being hit by a knife weilded by a human child, has only one defense point)
Stamina: Low(became tired by doing nothing but standing around and dodging knife strikes)
Range: Eye to eye
Standard Equipment: None
Intelligence: Average(actually reacted to being attacked and dodged the strikes, unlike the other monsters in the underground)
Weakness: Anything that can harm
Notable Attacks/Techniques:
Bone Zone - Can create magic bones that can harm someone's SOUL inside and outside the Bullet Board. Variations include Blue Bones which only do damage when the SOUL is moving.
Gaster Blaster(s) - Flying skulls that can fire magic energy blasts. Can come in different sizes and widths.
SOUL Manipulation - Can make SOULs unable to fly around in the Bullet Board, making them only able to jump. Can also push them to different directions.
Karmic Retribution - Sucks an opponent SOUL's HP based on the sins they committed.
Cheating - Can cheat the game to give him an advantage in battles(or outside battles). Includes teleportation, ignoring invinsibility frame and attacking at the player's turn outside the Bullet Board.
Others
Notable Victories:
Notable Losses:
Inconclusive Matches: