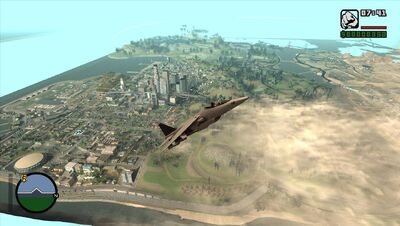 Arena Summary
San Andreas is a semi-fictional take on Los Angeles. It encompasses 3 major locations. The urban Los Santos, the countryside San Fierro, and the glitzy Las Venturas. In addition to even more acres of land.
Time Of Day: Day/Night Cycle (Within 24 minutes mind you)
Weather: Varies
Location: Fictional Version Of California
Arena Size: Large Town to Small City
This Arena May Benefit: Criminals and Thugs (In Los Santos anyway)
This Arena May Impair: N/A
Items: A LOT. Guns, knives, explosives, rocket launchers, a jetpack, flowers, a purple....thing....
Starting Theme Of The Battlefield:
Ad blocker interference detected!
Wikia is a free-to-use site that makes money from advertising. We have a modified experience for viewers using ad blockers

Wikia is not accessible if you've made further modifications. Remove the custom ad blocker rule(s) and the page will load as expected.