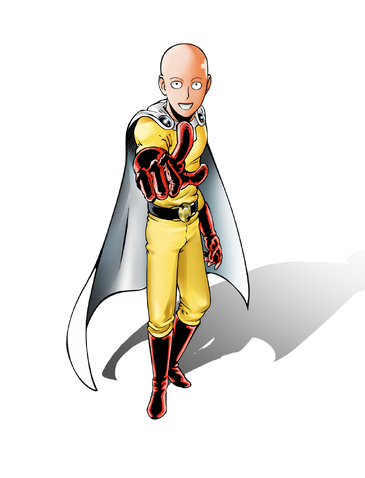 Summary
I WANNA BE SAIKY-HERROOOOOOOOOO
Powers and Stats
Tier: Saitama punched the concept of tiers in ONE PUNCH. "Beyond (spam)" doesnt even begin to describe his power. He doesn't even have a use for, nor a need for being beyond (insert much spam here) tiers. Mythic Saitama was a tierless being to begin with.
Name: SAITAMA THE ONE PUNCH MAN, ONE THRUST MAN
Origin: WAN PUNCH MANN
Gender: MAIL
Age: Beyond the concept of Age
Classification: The Hero, Doctor, Engineer, Scientist, Dentist, ect
Powers and Abilities: ONE PUNCH, anything else that Saitama punched, and every single other power/ability.
Attack Potency: Saitama killed the concept of "Attack Potency" in ONE PUNCH (Instantly KO'd both an infinite number of Gokus and an endless number of Massively Wanked HST Protagonists. His true power has yet to even be revealed, but even then, theres no such thing as "full power" for our lord Saitama, he just punches things and then they die in just one hit),it's also impossible to define because he's just that awesome).
Speed: Saitama ONE PUNCHed Speed in a massive homerun, but impossibly before that, it was smashed completely with absolutely no remains. it's also impossible to define because he's just that awesome.
Lifting Strength: ONE LIFT (It's also impossible to define because he's just that awesome. He also smashed this concept in ONE PUNCH and has absolutely no limits.
Striking Strength: ONE SLAP (ONE PUNCHed an endless number of Beyond Tier Elder God Demonbanes that were all going to individually destroy an infinitely endless number of Omega Omnispheres)
Durability: Beyond the concept of durability (Saitama is completely unable to be harmed by any means at all, even with attacks "beyond the concept of"..., and even then, nothing has hurt him in a meme war). it's also impossible to define because he's just that awesome.
Stamina: "Beyond" doesn't even begin to describe the stamina he was, nor the endless spam of "beyond".
Range: Absolutely everywhere he can reach. Nowhere you can escape from him, for he has destroyed Range in ONE PUNCH
Standard Equipment: an awesome superhero uniform
Intelligence: How dare you question the hero's intelligence 
Weaknesses: Saitama destroyed weaknesses in one punch
Notable Attacks/Techniques:
ONE PUNCH: Saitama throws a punch that can kill absolutely anyone with no restrictions what so ever. And this is not even his full power, since Saitama also ONE PUNCHed the concept of "full power" out of the majestic Saitama. ONE PUNCH is even able to ONE PUNCH absolutely anyone even those "beyond the concept of beyond the concept of...(unnecessary repetition that got ONE PUNCHED defeat" and those "beyond the concept of beyond the concept of... (unnecessary repetition that got ONE PUNCHED) death...". This isn't even it's full extent. In fact, the ONE PUNCH has never even shown its full extent. If ONE PUNCH can do it, then ONE PUNCH. if ONE PUNCH can't do it, then ONE PUNCH.
Not Paying Attention: Saitama can hold out as long as he wants just by not paying attention to anything. No matter how devastating, or hax the guy attacking him is, he can simply talk about groceries and supermarkets while nothing happens to him at all. ABSOLUTELY NOTHING.
INTENSIVE TRAINING: Through immense training and hard work, Saitama has reached to where he is now, and transcends that by an unspeakable amount. Saitama is able to automatically win because he trained for it in advance.
Notable Attacks and Techniques in "Serious Mode"
Note: Saitama has and never will show his "full power." Such concepts have been ONE PUNCHed by our great Hero. Also, Saitama can pick and choose if he wants / does not want any and every single other attack/technique on this wiki, in other wikis, in every wiki, that exists, does not exist, and has yet to exist, same with powers and abilities. With none of their weaknesses, and absolutely boosted by a factor of ONE PUNCH to the power of endless ONE PUNCHes
SERIOUS STRIKE: Saitama throws an even more stronger punch that can destroy absolutely everything and is far far far definitively superior to even an endless combo of CONSECUTIVE ONE PUNCH after CONSECUTIVE ONE PUNCH after CONSECUTIVE ONE PUNCH... (continue until it is necessary... WHICH IS OF COURSE NEVER!)
Consecutive Serious Punches: A attack that has never been revealed (so far anyway), it remains legendary, and in theory, we can only say that it is a series of serious strikes.
Others
Notable Victories:
Yhwach (One punched the fuck out this fodder and plays with his head in the moon)
Umaru-chan (Smashed her face with one punch)
Marvel and DC combined (They had to amass their whole cast just to fight him and they'd still lose, even Superman was getting beaten badly )
Logic (Smashed it in ONE PUNCH)
Cartoon Fight Club (In One Punch and by extension AnimationRewind)
Every and All Beyond Tiers all at once facing Saitama in the ring
The Internet (The release of One Punch Man was such a sensation that the mere mention of it shook the Internet)
Vs Battles Wiki (Even a lower clone of Saitama showing up on the Wiki as a profile shook the foundation of the Wiki itself and resulted in many content revision threads that remain in-progress to this day)
MyAnimeList (For a period of time Saitama waking up to punch the Alarm Clock sent One Punch Man up to the 9.00+ ratings, a level that's virtually unheard of in Anime History except for a handful of anime and put One Punch Man even higher than One Piece, which was the highest rated of the HST)
Silverback Gorillas (Exaggerated)
Goku and Vegeta (See these  Scans)
Notable Losses: Got one punched
Stalemates:
Ad blocker interference detected!
Wikia is a free-to-use site that makes money from advertising. We have a modified experience for viewers using ad blockers

Wikia is not accessible if you've made further modifications. Remove the custom ad blocker rule(s) and the page will load as expected.