| | | |
| --- | --- | --- |
| " | Always live life on the edge. If you fall of the edge, use your mustache to climb back up. | " |
| | ~ Pink Sheep | |
Summary
Pink Sheep is one of the most powerful entities in the Minecraft Machinima universe along with his son, Purple Shep. He made his first appearance ever in ExplodingTNT's video, If Herobrine Took a Shower, and has been a recurring character ever since. The source of Pink Sheep's power is his perfectly well-trimmed mustache, which he can't live without and is what gives him his Prankster Gangster.
Powers and Stats
Tier: Memetic
Name: Pink Sheep
Origin: ExplodingTNT
Gender: Neither male nor female, classified as "other".
Age: ###########################################
Classification: Prankster Gangster
Powers and Abilities: MLGness (Everything about Pink Sheep is MLG), Prankster Gangsterness, True flight
Attack Potency: MLG | HATERALERTHATERALERTHATERALERT
Speed: MLG | Bro get on my level
Lifting Strength: MLG | 1 2 3 it's Pink Sheep
Striking Strength: MLG | #PGN
Durability: MLG | Yo can't touch this
Stamina: MLG | Haters are my motivators
Range: MLG | Time for another MLG trickshot
Standard Equipment: His perfectly well-trimmed mustache.
Intelligence: Omniscient, but can't count past 43.
Weaknesses: If his mustache isn't trimmed too well, it can hinder his performance.
Note: Everyone who lacks a perfectly well-trimmed mustache is below him.
Key: Base|True MLG Mode
Others
Notable Victories:
Haters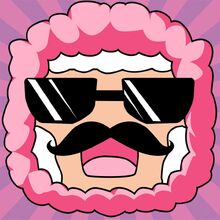 Notable Losses:
ExplodingTNT (3-5)
Inconclusive Matches: