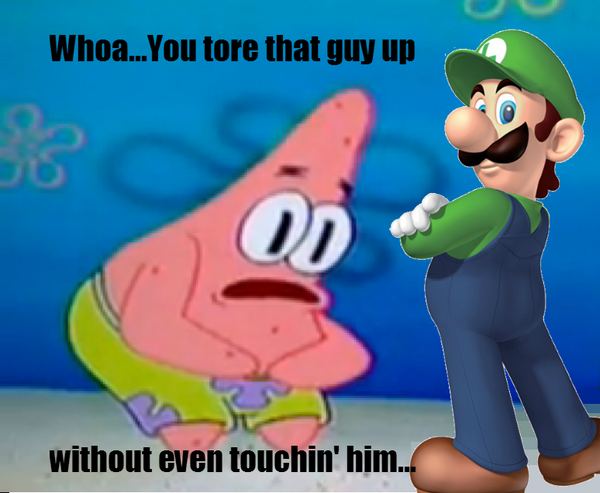 Summary
Behold the one and only Luigi, our zeroth place winner for doing absolutely nothing longer than everyone else! This game's winner is... LUIGI!
Just teh Statz
Tier: Memetic Tier when Doing Absolutely Nothing
Name: Luigi
Origin: Luigi
Gender: Nothingness
Age: Irrelevant
Classification: Master of Doing Absolutely Nothing
Powers and Abilities: Instant Victory when Doing Absolutely Nothing
Attack Potency: Always Wins when Doing Absolutely Nothing (I don't even have to explain myself. If he beat the previous champion of doing nothing, who is Patrick, by doing nothing himself, then by default he always wins when he is doing absolutely nothing. Bonus points if he puts extra effort into doing nothing.)
Speed: Completely Immobile
Lifting Strength: Nothing
Striking Strength: Nothing
Durability: Nothing (He's doing nothing so what do you expect)
Stamina: Enough to do nothing for a really long time
Range: Irrelevant, he does not need range to beat you
Intelligence: Absolutely Mindless (He's doing nothing)
Weaknesses: Nothing
Notable Techniques
Doing Absolutely Nothing: Luigi does absolutely nothing with his trademark death stare which results in the opponent, frantically trying to bumrush and kill him, only for them to fall down a bottomless pit with absolutely nothing no return what so ever. Results in an instant defeat for the opponent.
Matches
Notable Victories
Mario
Bowser
Peach
Cackletta
Fawful
Shroobs
Super Mario
Kirby (casually solos the verse)
Jackie Chan (Note: Jackie Chan did not want any trouble)
Batman (Note: Batman had prep time)
Sonic
Tails
Shadow
Amy Rose
Rouge
Eggman (casually solos the verse)
Starfox
Donkey Kong (casually solos the verse)
Bugs Bunny (casually solos the verse)
Metapod (casually solos the verse)
Darth Vader
Darth Sidious (casually solos the verse)
The One Above All
The Living Tribunal (won a staring contest against it too)
Elder God Demonbane
Featherine Augustus Aurora
Yog-Sothoth
Azathoth
Kami-Tenchi
Notable Losses
Inconclusive Matches
Satoru Iwata
Feats
Doing Absolutely Nothing:
Ad blocker interference detected!
Wikia is a free-to-use site that makes money from advertising. We have a modified experience for viewers using ad blockers

Wikia is not accessible if you've made further modifications. Remove the custom ad blocker rule(s) and the page will load as expected.