Arena Summary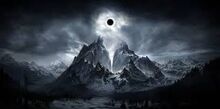 This place is where souls go to the moon itself is where the souls go to but it holds more secrets than it looks normally it only allows people that past the trial to get inside fully (though for fights that has been taken off)
Time Of Day: Time doesn't exist in this place…..
Weather: N/A doesn't have weather in hell
Location: Hell's centre (though technically hell is infinite so no real centre just a moon to show its landmark :/)
Arena Size: Infinite
This Arena May Benefit: Blue Moon heals ppl
This Arena May Impair: Souls that can keep u immobilize but if the moon goes red at anytime it can take the souls of combatants no matter what you have to show damage for the moon to kill you. More effects to be added. Also this forces damage on people
Items: Nothing
Starting Theme Of The Battlefield: Sworn through swords
Ad blocker interference detected!
Wikia is a free-to-use site that makes money from advertising. We have a modified experience for viewers using ad blockers

Wikia is not accessible if you've made further modifications. Remove the custom ad blocker rule(s) and the page will load as expected.