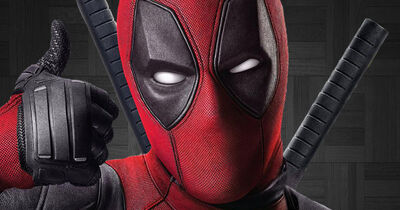 Summary
Comic book character that is notorious for breaking the 4th wall, and revealing names...
Powers and Stats
Tier: beyond any and all tiers (even Omni-Memetic)
Name: Wade Winston Wilson, Deadpool
Origin: Marvel comics, new mutants, 98
Gender: male
Age: Probably 30s or 40s
Classification: BADASS WITH HUGE DICK
OGOG- Deadpool what the hell, I'm writing this page get out of here.
deadpool- Nah son I own you.
Powers and Abilities: Able to own retarded fanboys, being badass, super condition, healing factor
OGOG:Ok deadpool that's not cool, I like your stuff why would you insult me
deadpool: Because your a fat fuck, yeah I said fuck, what are you going to do? tell captain America
Attack Potency: Wrecks salty noobs with ease
OGOG: that kinda hurts man, I'm trying to be a decent person and make a good page
Speed: fast enough to reveal OGOGs real name
OGOG: please don't
Deadpool: Hey you
OGOG: yeah?
Deadpool: not you bitch, them
OGOG: who
deadpool: SHUT THE FUCK UP
OGOG:ok
deadpool: his name is JO
Others Edit
Notable Victories:
The Marvel Universe
Superman
All Existence, Nonexistence, anything beyond, etc......
Notable Losses:
none
Inconclusive Matches:
none