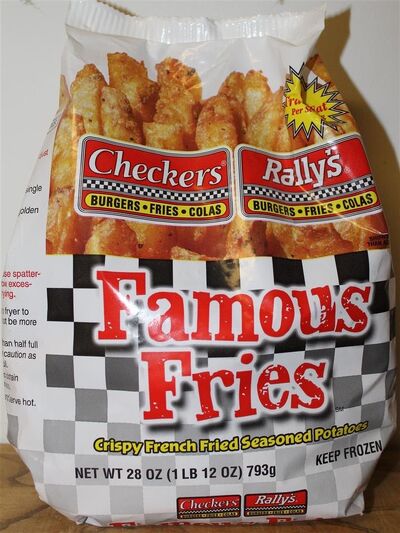 Summary
Sometimes people get it right. Sometimes, they make perfection. In the form of fast food fries, there is one unmatched. The fries of the Checkers/Rally's brand.
Powers and Stats
Tier: So delicious, it makes the mouths of tiers water!
Name: Checkers/Rally's Fries
Origin: Checkers/Rally's Fast Food Chains
Gender: Genderless (THEY'RE FRIES)
Age: Straight out the fryer! (If you order them at the food place instead of buying them at a store)
Classification: Seasoned Fries
Powers and Abilities: Delicious Taste, Mild Spice, Crunchy Texture
Attack Potency: God Tier French Fries Level
Speed: Fryerpresent
Lifting Strength: N/A
Striking Strength: Packs a good punch in your mouth
Durability: If you're eating it, not much. If it's actually fighting, Crunch Level++++++
Stamina: Irrelevant
Range: Every one of your taste buds, and every taste bud in every atom, molecule....
Standard Equipment: The bag/cardboard holder it comes in.
Intelligence: N/A
Weaknesses: When not in a battle, being consumed by humans/expiring
Notable Attacks/Techniques:
Pepper Stardust: The fries release a peppery stardust that packs quite the kick!
Crunch Fold: The fries make multiple crunching sounds as they crumple, even transcending dimensional spaces
You Gotta Eat: The fries become so tasty, the foe gives in and tries to consume the fries
Others
Notable Victories:
Notable Losses:
Inconclusive Matches:
TGI Friday's Garlic Parmesan Steak Fries